(2017) The NewEarth University School of Socio-Economics & Ecology is honored to be affiliated with Jiwa Damai, founded and directed by Dr. Margret Rueffler, PhD.  Jiwa Damai is a hands-on, socially responsible organic garden and retreat center located amidst lush tropical vegetation in the heart of Bali (20 mins from Ubud), Indonesia.

Jiwa Damai offers on-site training, workshops and courses, as well as an Internship Program in Bali.  Learn more here in this brief video about their unique Internship:  https://www.youtube.com/watch?v=AeJgoYHbPjQ
Jiwa Damai provides a sanctuary for learning and growth in an idyllic powerful environment, where students and visitors alike can re-connect to the life-giving qualities of the earth.
Jiwa Damai gardens are part of the Lagu Damai Foundation, offering social and educational content.  Learn more about the Foundation here: https://www.youtube.com/watch?v=Dr8vu6UqtK8
Jiwa Damai is a meeting place for people from all over the world to find and initiate peace,
to learn from each other and from the land.
For detailed info on these upcoming teachings: www.jiwadamai.net
---
ABOUT YOUR FACILITATOR DR. MARGRET RUEFFLER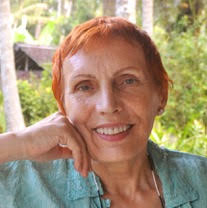 Dr. Margret Rueffler is the founder of Lagu Damai Bali Foundation and Jiwa Damai agro-permaculture gardens and retreat center.
Margret is an acupuncturist, transpersonal psychologist, therapist and has authored several books translated into several languages.  Dr Rueffler has worked internationally for more than 35 years with PsychoPolitical Action projects, collective traumata, prevention of collective violence and the collective unconscious.  She discovered Permaculture ten years ago and is a permaculture designer and consultant.
---