FACULTY NEWS! JULY 2019 ~ NEU's School of Health & Wellness – discipline of Wellness Sovereignty – is delighted to announce that Dr. Arpana Obrien, MD aka Dr. Didge Dolphin (based in Bali and Australia) has joined its faculty. He attended the 2019 NewEarth Festival at the NE Haven in Indonesia, and subsequently joined the NewEarth University to passionately focus on teaching his innovative curriculum on Human Anatomy. Stay-tuned for this fun and educational online experience TBA late 2020.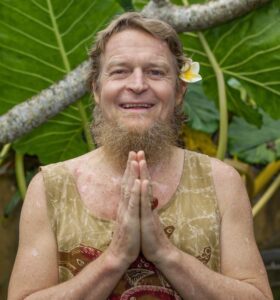 Dr Arpana Obrien retired as an integrative medical doctor GP (general practitioner) in 2016 after 28 years of practice.
He now devotes his time as a yoga teacher, anatomy educator and sound medicine practitioner (having played didgeridoo for 30 years).  Arpana's keen knowledge of yoga and functional anatomy, in tandem with many years as a musculo-skeletal practitioner and acupuncturist inspires his unique colourful character, "Anatomy Man" to deliver engaging anatomy material for his students.
Welcome and best wishes to Dr Arpana for many vibrant years of collaboration through his unique contributions: teaching creative human anatomy workshops, courses, and sharing articles and helpful resources, etc.
May these auspicious activities bring great benefit to all sentient beings through his role as a faculty member with the NewEarth University.