From NEU's D & D faculty members:
Natural order is honored throughout new earth's conscious design philosophy and creative process. This has produced enhanced structures aligned to the human body's divine design and requirements to thrive. Bio- architecture encourages and supports our physical form to return to its natural, vibrant state.
NewEarth University's D & D (design & development) principles are based on the uncompromising and aesthetically perfect geometry of nature.
Structures are designed; and developments are laid out using the same approach and organizing principles used by the natural world at the atomic, cellular, and molecular levels… in the creation of all living things.
integrative model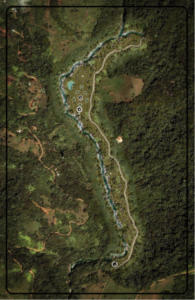 The concept of community as a living organism is reflected in reality as a self-sustaining and self-regulating system of structures that co-exist in a synergetic relationship with the surrounding environment.
This concept is firmly grounded upon the principles of bio-architecture and permaculture.  Both essentially emulate the way in which a tree will dig its roots down into the solid earth and yet, will also extend its branches upward towards the sky.  This extension demonstrates the perfect distrib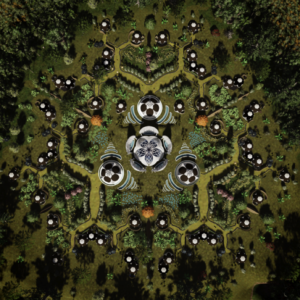 ution of energy to maximize the space and the ideal exposure to light.
We utilize this natural principle to configure the distribution of structures into disrupted ecosystems in order to reduce environmental impact.  (In the image shown here, we illustrate a model that could be beneficially applied in a number of different cases.) That being said, there will also be some instances where this same type of geometrical configuration will grow organically, depending on the location and topography.  This will interweave into its environment with grace and ease, always taking the path of least resistance.
Both models cross-over as the Integrative Model has a regenerative effect and is realized in a integrative manner.


regenerative model
In a Regenerative Model, we maximize the effect that shape and geometry have on the regenerative process, allowing this tool to support and activate life-force within an environment, which has been destroyed by a non-natural processes. This type of geometric configuration can be used in a scenario where the land has been cleared of tress and other species. In such circumstances we convey the use of this form of lay-out, which serves a double function; not just the creation of a community, but also a holistic system that will have a regenerative effect within the particular location, calling life-force back, inducing rain fall, inviting animal species and plant life, which will reemerge and restore to its ulterior state.
There are many tools that may be used to recreate these effects; one of them is shown here in the lay-out of sacred mandala geometry.  This has been demonstrated with the use of implosive fractal geometry such as the Sri Yantra, constructed with paramagnetic stone in the desert of Oregon by Mickey Basin, which was consequently replicated by Dan Winter (to the same effect). The conjugation of this with other implosive technologies, such as Agnihotra or negentropic field generators, etc. can initiate a potent regenerative process that will not just serve the inhabitants of the settlement, it also dramatically affects the regeneration of surrounding areas.