Yamas & Niyamas Workshop by Linda Yelton
$54.00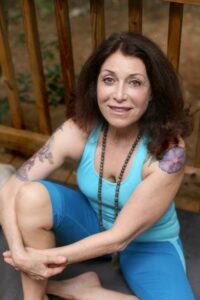 NewEarth University (NEU) presents an online workshop: Yamas & Niyamas by Linda Yelton, Faculty at the School of Consciousness & Spirituality
This 2-hour presentation was recorded LIVE in NEU's Digital Classroom on January 26, 2021
NOTE: Once you've paid tuition for this Workshop VIDEO REPLAY, you'll receive a confirmation email from NEU of your successful enrollment.
THEN… RETURN to Linda's 5th Dimension Yoga main-page (under the University Courses Main-menu) ie, return to where you enrolled and click the blue STUDENT ACCESS WORKSHOP BUTTON
NEU Policy: NO REFUNDS for this Workshop once it has commenced; or for its Video-REPLAY
READ ALL INSTRUCTIONS BELOW BEFORE ENROLLING
Thank you for interest to study at NEU
Once You ADD TO CART then … Click VIEW CART (Way Up Top)  ↑ ↑
Description
READ THE FOLLOWING ~ CAREFULLY ~ BEFORE ENROLLING
Yamas & Niyamas Workshop ~ Foundations of Yogic Philosophy
Faculty: Linda Yelton, NEU School of Consciousness & Spirituality

Presentation: 2-hour Workshop Lecture with PowerPoint Presentation

Content: Workshop Video Recording (REPLAY ACCESS ONLY at NEU website)

Enrollment: Open

Language: English

Handout: Yes, Downloadable PDF

Tuition: $54.00 USD
NOTE: NEU policy does not offer payment plans or partial tuition, and there are no refunds for Workshops once they have commenced; or for Video-Recording Replays.
If you ALREADY tuition-purchased this Workshop, to ACCESS Linda's Workshop Page, ensure you've LOGGED-IN (at this website) with your NE Account credentials. 
Notes about this Workshop
There are NO prerequisites for this Workshop; all are welcome

ALL content is based at this NEU website – Yamas & Niyamas Workshop Page.

This Workshop was recorded by NEU's School of Consciousness & Spirituality

You will not own the Video-Replay; you may access it for study at Linda's Workshop Page 
What you need
Writing paper and pencil/pen, etc. to take notes and doodle as you feel inspired

It is recommended that you attend using a desktop or laptop computer 

A computer may provide a better learning experience than smartphones / tablet devices. The option is yours.

Printer to print your downloadable PDF handout at the Workshop Page

Remember: LOG-IN at NEU, FIRST with your NE Account credentials

If not logged-in, you won't be able to access the Workshop Page (accomplished by clicking STUDENT ACCESS WORKSHOP BUTTON at the 5th Dimension Yoga Page (where you enrolled)
Enjoy this inspiring event: 

Yamas & Niyamas Workshop
Thank you for choosing to study at the NewEarth University (NEU)
School of Consciousness & Spirituality

↑ ↑  SHOPPING CART BUTTON ABOVE  ↑ ↑