FACULTY NEWS! AUGUST 2020 ~ NEU's SCHOOL of NATURAL LAW is delighted to announce that CARINE HUTSEBAUT has joined its faculty as a senior advisor teaching cutting-edge curriculum on Victim & Criminal Profiling. As an integral part of the International Tribunal for Natural Justice (the ITNJ.org) in 2018 at Westminster Hall, London, she gave heart-wrenching testimony to the Court and subsequently became a Commissioner to the ITNJ's Commission of Inquiry Into Human Trafficking & Child Sex Abuse.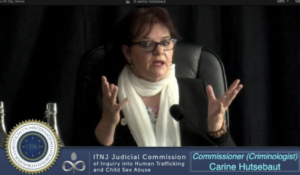 Commissioner Hutsebaut is a powerful voice for the voiceless, and a loving Soul in our sovereign movement to manifest a new earth – we are honored to be in her company.
Based in Belgium, Carine is a renowned expert in the subject of pedophilia, or as she has termed it more accurately, pedo-sexualilty. After 30 years of intense work in this arena she is still – now, more than ever – passionately devoted to exposing the atrocities of her field.
Internationally sought-after as a psychotherapist

, 

criminologist/criminal profiler and author of, 

Child Hunters: Requiem of a Childkiller, 

Carine brings powerful, broad experience to her teachings; and NEU's School of Natural Law is thrilled to welcome her expertise into the faculty.
Through her new VCPAcademy now affiliated with your worldwide new-paradigm NEU, she shares about her life-altering experiences, advises with an array of savvy tools and techniques gathered into a unique toolkit methodology that she's used successfully for decades to help heal and transform peoples lives – victims and perpetrators.
Best wishes to this extraordinary and brave wisdom-keeper, wishing her many years of collaboration through contributions in: cutting-edge curriculum and life-enhancing resources.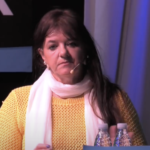 Carine's Intro Workshop & Training Academy Course is presented here, Fall 2020
Victim Criminal Profiling Academy
May these activities bring great benefit to all sentient beings as we take our world back!