NewEarth University (NEU) presents an online

workshop:
Painting From The Soul: The Great Art Awakening
by Master Artist Jane Evershed, faculty, School of The Living Arts
Recorded (NEU Embedded Replay Now Available)
INTRODUCTORY WORKSHOP:
Faculty: Jane Evershed, senior advisor, NEU School of The Living Arts

Presentation: 90-min Introductory Workshop (online ZOOM)

Content: 1 Workshop Presentation with Meditation

Enrollment: Open

Language: English

Tuition: $45.00 USD (Note: NEU issues NO REFUNDS for Workshop Video-Recording Replay tuition)
WORKSHOP FUNDAMENTALS
An intro to the Importance of Art in today's world (the great art awakening!)

The relevance of Painting From The Soul during these changing times

10 Steps to Teach Art From The Soul

Keystone Inspiration Methods

Painting From The Soul protocol to free the artist in you (and others)

Essential elements from Jane's upcoming book, SPLAT!

Meditation to enhance your creative process

The visual basics launchpad to inspire students' confidence

Student/Teacher Classroom Tips for Success, Spontaneity and Relationship

Tending YOUR artistic vibrational garden;  Jane shows the way …
WHAT YOU RECEIVE
90-min online Workshop – Embedded Video Replay

Video is not downloadable

Downloadable PDF at Jane's Workshop Page

Overview for future in-depth Courses by Master Artist, Jane Evershed
READ THE FOLLOWING CAREFULLY BEFORE YOU ENROLL
Important Notes about this Workshop from your Instructor:
There are NO prerequisites required for this Workshop

This Workshop was recorded on Zoom by NEU's School of The Living Arts

NEU Policy: NO partial tuition or payment plans are available. There are NO REFUNDS
What you need
Writing paper and pencil/pen, etc. to take notes and doodle as you feel inspired

It's suggested to attend using a desktop or laptop computer (optional). A computer is likely to provide a better learning experience than small smartphones / tablets. The option is yours.

Workshop content REPLAY & PDF is based at the NewEarth University (NEU) website. (Follow easy prompts.)

Remember: LOG-IN at NEU. If not logged-in, you will not have access to my Workshop Page, accomplished by clicking: STUDENT ACCESS WORKSHOP BUTTON

Important: LOG-IN using Account credentials from enrollment

Go to NEU Main-menu: Courses

Pull-down menu: Painting From The Soul Page, scroll down

CLICK YOUR ACCESS BUTTON

Repeat those easy prompts
Learn how to turn art upside down, inside out, and right side up!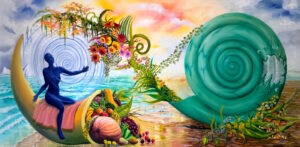 Enjoy this inspiring event: Painting From The Soul: The Great Art Awakening
If you've tuition-purchased, to ACCESS Jane's Workshop Page LOG-IN to NEU from Account credentials used to enroll with. Then, CLICK "COURSE CONTENT" BELOW ↓