The NewEarth University is honored to be affiliated with the Vesica Institute, founded and directed by one of NEU's distinguished Fellows, Dr. Robert Gilbert, PhD.  During quality Spiritual Science eCourses, he reveals to you rare treasures from ancient and modern resources.
Learn online with Audio/ Video-formats, Lectures, PDFs, etc.
ENROLL NOW in eCourses at VESICA.ORG
eCourses available at VESICA.ORG

Essential Teachings and Practices of Spiritual Science
Vibrational Testing & Healing
BioGeometry (R) Training: Energy Balancing Homes & Offices
How to Use Crystals & Gemstones… and more on your computer or mobile device
ABOUT YOUR INSTRUCTOR DR. ROBERT GILBERT (NewEarth University Fellow)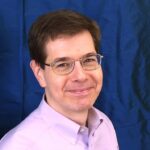 Dr. Robert J. Gilbert is a former U.S. Marine Corps instructor in Nuclear-Biological-Chemical Defense, with 30 years of research into both mainstream and holistic health methods. He holds a Ph.D. in International Studies, and contributed to the first academic textbook on Transformational Politics. Robert has extensively studied the Spiritual Knowledge and Practices of many different world spiritual traditions to create his trainings in a clear, concise, and unified new Spiritual Science. He also teaches unique courses in Vibrational Testing and Healing methods, including rare French methods of Vibrational Research from the early 1900s.
The Vesica Institute is dedicated to creating a New, Universal Spiritual Science providing access to hidden knowledge & practices from multiple world traditions, described clearly and concisely — with the "veils" removed.